As I struggle with the loss of our baby in 2012 I often look for places to find strength. This comes from a variety of sources.... friends, family, books, quotes, and very frequently from Ashley. Sunday, July 28th would have been our babies first birthday. So that day we took some time to stop and remember. When Ashley first woke up to begin getting ready for church she asked if it was baby brother's birthday. We had discussed it before, but she wanted to make sure. I told her it was, and we had a talk about how it might be a rough day for mommy. As tears started leaking from my eyes, Ashley asked, "Mommy why does that make you sad? Are you worried about baby brother being alone on his birthday?" I said, "Yes, that's part of it!" To which she replied, "Well he isn't alone, he is with Jasmine (our dog who died last summer). They play up there, and there's lots of other people too." So after those words of wisdom we went to church, and Ashley lit a candle after Mass. That evening after spending some time with friends at the park, Larry, Stormie, Ashley, and I stopped at Deals. Ashley and I went in so she could pick a balloon for baby brother. Inside the store I was once again reminded of just how strong this little girl is, and no matter how much we talk openly about the loss it will always shock other people.
Ashley looked through all of the balloons and decided an elmo balloon would be the perfect one. We waited in line to check out, and when we got to the counter the cashier wanted to know if the balloon was all we needed. Ashley said yes, and informed her it was for her baby brother. The cashier responded in typical fashion, about how sweet Ashley was and how thoughtful she was to be picking something out for her baby brother. Then Ashley said "Well today is my baby's birthday and we have to get this balloon for him, because he died." The cashier was obviously shocked as she threw her hand over her mouth, and looked at me to confirm what was just said. My eyes were filled with tears, but I said nothing. The lady then said, "Wow, I think that's the saddest thing I've ever heard." She was instantly fighting tears herself as she bent down close to Ashley and said, "You know what? I'll pray for him." Ashley said,"Thank You" and off we went. Once back in the car Ashley wanted to know why the lady started crying, and I had to explain that just because we talk about it, doesn't mean other people aren't surprised by it. For her it is just a normal part of life, but obviously that isn't the case for everyone.
After buying the balloon we headed to Lake Jacomo. We couldn't go to the same spot as last year, because someone was having a party. We found another location that had some space away from power lines and trees. Ashley wanted to be the one to let the balloon go so she did and watched it for a long time. As the balloon went farther away the girls began playing on the playground, but Larry and I continued to watch the balloon until we could no longer see it. It had gotten to the point that it would go behind a cloud and then it would appear again, but finally it was gone for good. At that point we decided maybe next year we should attach a note to the balloon. I had thought of it earlier in the day, but then didn't end up doing it, but I do think it's a good idea for next year.
Days like that are hard. It's on those days where I turn to other sources for comfort. This year one of those sources was Finding Nemo, and Dory saying "Just keep swimming." Lately that quote has gotten a lot of publicity as YouTube sensation Talia, told Ellen that's what helped her get through each day of dealing with cancer, which is a battle she tragically lost just a couple weeks ago. I figured if that young 13 year old girl could find the strength to get through everyday, even the hard ones, so could I. So this week I have repeatedly reminded myself to "just keep swimming" and have gotten through it, one day at a time.
Watch the videos below to see Talia on the Ellen Show:
Although Sunday was a difficult day, it was the perfect day. Just the right combination of distracting myself, and remembering the one that we lost. I like the way we stopped to remember and pray, but we didn't let the sadness consume us. Everyday since the baby died I have told myself that now the baby can look down on us, and I want him to always see things he would be proud of, and I am confident he would have been proud of all of us that day.
For More Inspirational Disney check out this blog: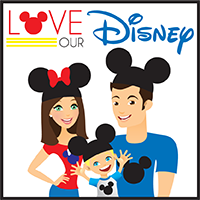 Please also check out the Thursday Favorites Blog Hop:
It's a great group of blogs, and while I normally post some of my favorite things on Thursday today it was important for me to share this, and how amazing my favorite person in the world is. Ashley really is my angel, and I am inspired by her everyday.